Santander Gastronomy
Santander cook is based mainly on seafood. The marine products Santander have given Santander a great prestige and recognition.
Fish such as mullet, anchovies, sea bass, sardines... Are a good example of their products.
It is also important in all Cantabria and Santander the wide variety of fruits and vegetables produced in the region of Liébana and the cheese production is also very important.
The meat eaten in Santander come from cattle that are raised in Cantabria.
As for desserts, we must note that there are numerous bakeries in Santander you can find exquisite products like "polkas", but if there is a typical dessert in any course in Cantabria and Santander are the "sobaos".
One of the most typical dishes of Santander city are "the Rabas" (battered squid and fried)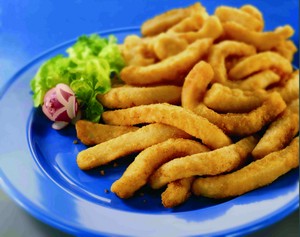 We also have to highlight the chickpea stew and the fish and shellfish dishes, such as sea bass and sardines.
About desserts we have to mention that in Santander there are many bakeries in which you can find exquisite products like "The Polkas", but if there is a very typical product of Santander is the Sobao.