Barcelona Gastronomy
Catalan gastronomy is characterized by its variety and also by the influence of other cultures.
Barcelona's cuisine has common features to Mediterranean cuisine. It is typical in this gastronomy vegetables, fruits, meat and fish and of course the olive oil.
Dishes and typical products:
Among the typical dishes we highlight: "arroz parellada", "las faves a la catalana" are baked beans with several sausages like "butifarra".
"Pan amb tomatec" (bread with tomato), this is the easiest one but the most popular. The "pan amb tomatec" is a slice of bread spread with some oil, some salt and natural tomato.
Another typical dish is the "escalivada" like a roast toast with eggplant, anchovies, and red pepper.
And we can forget the "Catalan cream" are kind of sweet custard with caramelized sugar on the surface.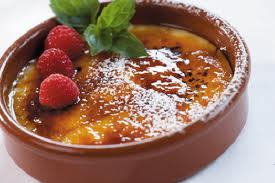 We have to mention also that in Barcelona we find some of the best cooks of the world like Ferrán Adriá.